Diet and Nutrition
Detailed information on dietary intake has been collected five times: once in childhood and four times in adulthood. The childhood diet at 4 years (1950) was collected via a 24-hour maternal recall of all meals consumed. (Prynne et al, 1999).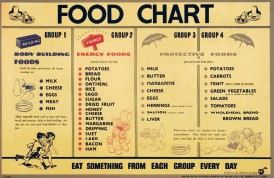 At the adult ages, all food and drink consumed both at home and away was recorded in diet diaries using household measures and estimating portion sizes according to detailed guidance notes and photographs provided at the beginning of the diary.
In 1982 and 1989, the NSHD used a seven-day diet diary (two-day recall and five-day food diary) and in 1999 and 2006-10 a five-day diary was used (with no two-day recall).
The diaries divided each day into six (1982) or seven (1989 and 1999) meal slots, plus an "extras" column for items that had not been recorded in the meals. In 1982 and 1989 the nurse gave detailed instructions on how to complete the diary, filling in the first two days with a 48-hour diet recall and leaving the study members to complete the remaining five days and return by post. In 1999, there was no 48-hour recall and the diary was completed by the study members after the interview.
Responding sample for the diet diaries
| Year | Response |
| --- | --- |
| 1950 | 4,599 cohort members returned usable dietary information |
| 1982 | 2,441 returned diaries, of which 2,428 continued after 48 hour recall |
| 1989 | 3,187 returned diaries, of which 2,280 continued after 48 hour recall |
| 1999 | 1,776 returned diaries (there was no 48 hour recall) |
| 2006-10 | 1,869 returned diaries (there was no 48 hour recall) |
There were 1,253 survey members from whom dietary records of at least three days were collected at three adult time points.

More general questions on diet and eating habits were also asked as part of the 2006-10 pre-assessment and 2014-16 postal questionnaire.
Study members were asked how often they ate breakfast and fruit, as well as what type of bread, milk and cooking fat they used, as well as details of any dietary supplements taken.
---
Key publications
Price, G.M., Paul, A.A., Key, F.B., Harter, A.C., Cole, T.J., Day, K.C., and Wadsworth, M.E.J. (1995) Measurement of diet in a large national survey: comparison of computerised and manual coding of records in household measures.

Journal of Human Nutrition and Dietetics, 8, 417-428
Price, G.M., Paul, A.A., Cole, T.J. and Wadsworth, M.E.J. (1996) Interviewees with higher body mass index were less likely to return diet diaries in a longitudinal national survey. Proceedings of the Nutrition Society, 55, 218A.
---
Obtaining the standard diet and nutrition variables
You can obtain a list of the standard topic variables to use in an NSHD data sharing request by selecting the link below.


Please Note that the diet and nutrition standard basket only contains a few, general food variables, with no detail on the specifics of what was eaten. The vast majority of the diet and nutrition data was derived from the diet diaries, which can be found in several libraries in Skylark by 'searching by library' for filenames beginning 'Diet…' or 'NewDiet…' .